HEROD FAMILY

The Herods and the Christ

As previously noted, Herod the Great's slaughter of the innocents of Bethlehem was an attempt to eliminate the newborn prophesied Christ. Years later, when word of Jesus and his miraculous powers reached Herod Antipas, the tetrarch of Galilee thought fearfully that John the Baptist, whom he had beheaded, had been raised from the dead.
When the arrested Jesus, being from Galilee, was sent by the Roman procurator Pontius Pilate to Herod Antipas (in Jerusalem for Passover), the tetrarch hoped to see him perform some wonder. When Jesus would not answer his questions, Herod Antipas and his soldiers treated Jesus with contempt and mocked him, arrayed him in a robe, and sent him back to Pilate. Christ's crucifixion followed shortly thereafter. Herod Antipas and Pilate, the Gospel of Luke notes, became friends that very day.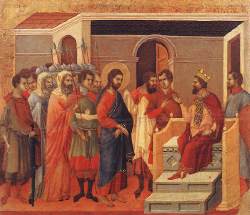 Duccio di Buoninsegna's Christ Before Herod
1308-1311
Museo dell'Opera del Duomo, Siena
Herod Agrippa I (a grandson of Herod the Great), whose kingdom included Galilee after the downfall of his uncle Herod Antipas, ordered a persecution of Christ's followers (c. 46 A.D.) that included the beheading of James the son of Zebedee and the imprisonment of Peter. When Agrippa I was about to have Peter executed, the book of Acts (chapter 12) says "the angel of the Lord" helped Peter escape from the prison. Agrippa I had the sentries who were in charge of the prisoner put to death.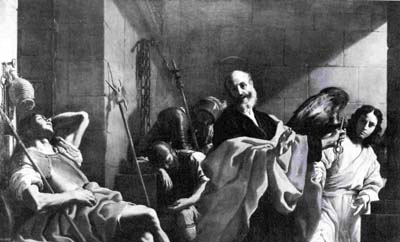 Mattia Petri's The Liberation of St. Peter
c. 1666
Akademie der Bildenden Kunste, Vienna

Agrippa I's own death, according to Josephus, followed five days of violent pain in his belly, agony which began immediately upon the king being hailed as a god in Caesarea. (According to Acts, he was smitten by the angel of the Lord, and died from being "eaten of worms.")
Herod Agrippa II (son of Herod Agrippa I) was the king before whom the imprisoned apostle Paul appeared in Caesarea (c. 60 A.D.) before being sent to Rome for trial (Acts 25-26). Seated by Agrippa II for the hearing was his mistress Bernice, who was also his sister, formerly married to her uncle Herod of Chalcis. (Another sister, Drusilla, wife of the Roman procurator Felix, is mentioned in Acts 24:24.) The incestuous pair listened to Paul's defense, after which Agrippa II said to Paul, "Almost thou persuadest me to be a Christian."
It is the first known use of the term Christian, used only one other time in the Bible (1 Peter 4:16). Whether or not he was serious about being almost persuaded, Herod Agrippa II was the last important and least horrid Herod.

Next
Copyright 2002-2007 by Ronald L. Ecker
SEE LINK http://www.ronaldecker.com/horrors3.htm
Enter subhead content here